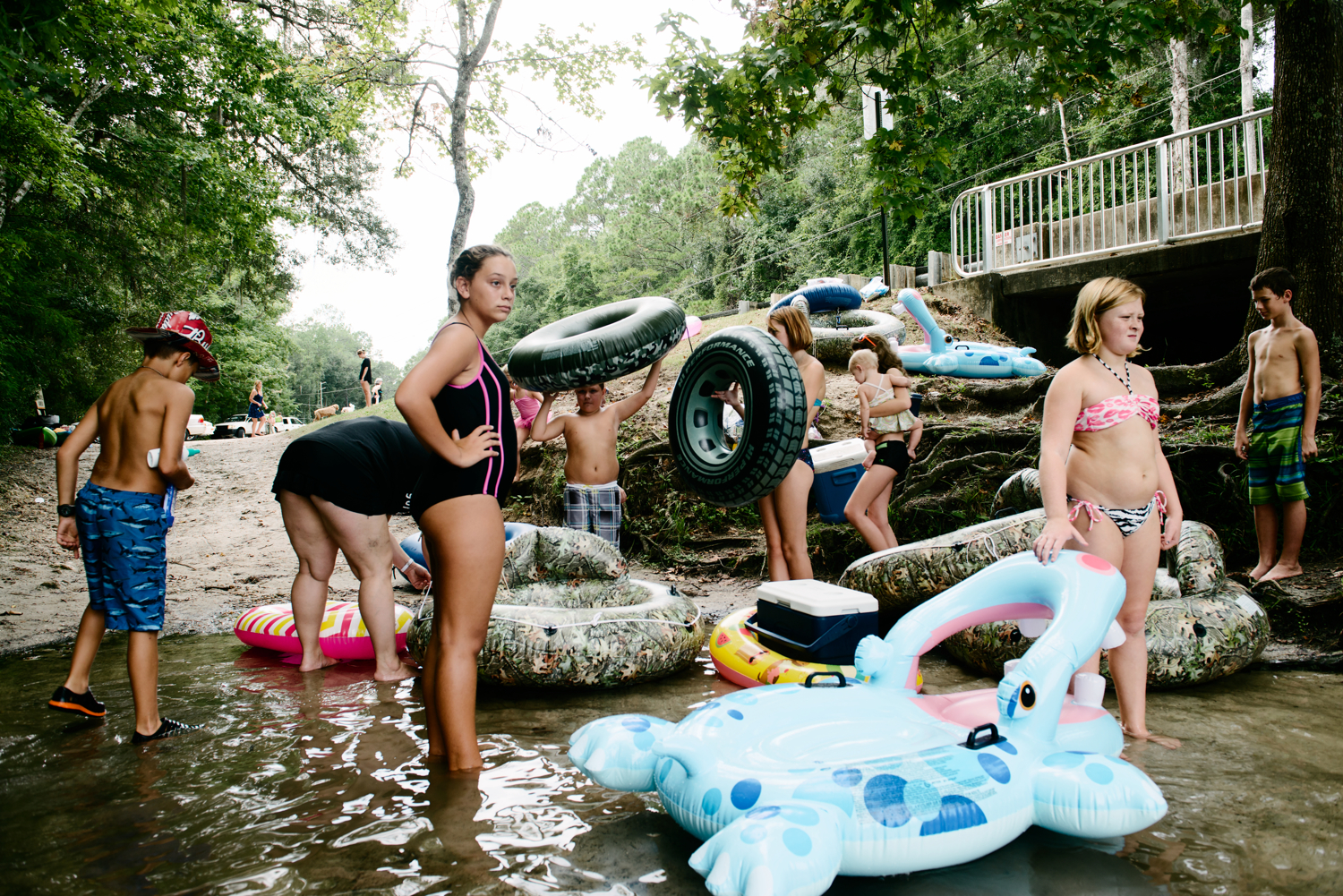 United States, Florida, Wakulla River. Children play on the the banks of the Wakulla River. The Wakulla River, home to a diverse mix of floridian wildlife, has seen population decreases in recent years with several fish species disappearing completely. Nitrogen runoff from higher grown have spurred algae blooms leaving the water oxygen poor and unable to support a diverse ecosystem.
France, Paris. A strip club in the Pigalle district of Paris uses the Icelandic flag to attract visiting tourists the night of the match between Iceland & Austria in the Euro Cup. During the Euro Cup held in France, Pigalle, a popular district with bar, strip clubs and sex shops, saw large numbers of foreign supporters. Bars & strip clubs would typically hang flags of the opposing teams attempting to attract tourist clientele.
Jamaica, Portmore. Police officer Mo relaxes in her home in Portmore, Jamaica. Mo, an openly transgender police man in Jamaica, has opened his home to young LGBTQI+ Jamaicans who live with him and his fiancé. Mo was interviewed as part of the Where Love is Illegal campaign.
France, Paris. Torquil Campbell, singer and frontman of the indie rock band Stars, intentionally rips his shirt before performing in Paris at La Maroquinerie. Stars is on tour promoting their recently released album, The North.
France, Paris. Playing music, drinking beer and dancing, Parisians celebrate the end of summer during Paris Plages on the right bank of the Seine in Paris, France. Paris Plages is a yearly event where for one month the city of Paris brings in sand to create an artificial beach on the bank of the Seine between the Louvre and Hôtel de Ville. The beach received about 5 million visitors over the course of the month.
France, Paris. Blocking traffic, two people dance in the streets of Paris during Fête de la Musique in the 18th district of Paris. Every year on June 21st live music can be heard on the streets of French cities and towns for Féte de la Musique.
France, Paris. Rémi Bernard, Artistic Director of Paris Courts Devant, takes a small break during the opening night celebration of the festival. Paris Courts Devant is a short film festival based in Paris.
Tunisia, Tunis. The high heeled shoes of Amine, a gay man from Tunisia. Amine returned to Tunisia from Lybia after he and his boyfriend were beaten and detained by police there. Now Amine's boyfriend is married to a woman in Lybia and Amine lives in the home of Amina Sboui, a LGBTQI+ and women's rights activist. Amine was interviewed as part of the Where Love is Illegal campaign.
United States, Missouri, St. Louis. Mark Spavale (left) and Mathieu Monnet (right) stand on the altar during the wedding in Saint Stanislaus Church in St. Louis. Spavale, an ordained Catholic priest, said that he followed proper protocol when asking the Vatican permission to marry his husband. The Vatican did not respond to his request (technically granting tacit approval) so Spavale & Monet were married their friend Father Marek. Spavale & Monnet live in Paris, but returned to St. Louis to have a ceremony with Spavale's family.
United States, Missouri, Kansas City. Former GST Steel worker Vernon Corliss sits in his Kansas City home. Corliss is a former worker at GST Steel, a manufacturing plant closed by Mitt Romney's venture capital firm Bain Capital. He did not lose his job when the plant closed, however when GST Steel declared bankruptcy it could no longer fully pay his pension and health care benefits. Corliss suffers from asbestosis poisoning, he once weighed 270 pounds, however because of his poor health he now weighs 139 pounds.
France, Paris. An American woman with "nasty" written on her forehead stands in a queue outside Le Carreau du Temple on night of the US election. With wait times up to an hour to enter, Le Carreau du Temple was the largest public election event in Paris. Results were not in when the venue closed, however the joyous atmosphere of the crowd (which overwhelming supported Hillary Clinton) had slowly shifted more somber as the night progressed.
Ilan Sebban (center) watches France play Switzerland during the 2016 Euro Cup hosted in France. Sebban traveled with his friends from Switzerland to be apart of the festivities in Paris. The game ended tied zero v. zero.
Spain, Barcelona. A group of boys practice boxing in the El Poble-sec neighborhood of Barcelona. The neighborhood has long been a working class and residential haven in central Barcelona, but in recent years has increasingly become a destination for young tourists.
Italy, Cinque Terra. A woman (center) wears a "burkini" while other vacationers play in the water or relax in the sun. In 2016 France drew international attention by banning the burkini, a swimsuit designed to respect Islamic traditions, whereas Italy rejected a similar ban proposed that same year.
France, Paris. A woman poses in her wedding dress outside the Louvre museum. The Louvre is a popular destination for Chinese and other east Asian tourists coming to Paris for engagement or wedding pictures. Following the November 2015 attacks in Paris overall tourism has declined, however the greatest decline can be seen in east asian countries, Chinese tourists have decreased by nearly 19.6% and Japanese tourists by over 40% (according to the Ile-de-France tourism board).
A young girl practices her harmonica outside a closed newsstand during Fête de la Musique in the 18th district of Paris. Every year on June 21st live music can be heard on the streets of French cities and towns for Féte de la Musique.
France, Aix-les-Bains. Cows block traffic on a road leading in the French Alps.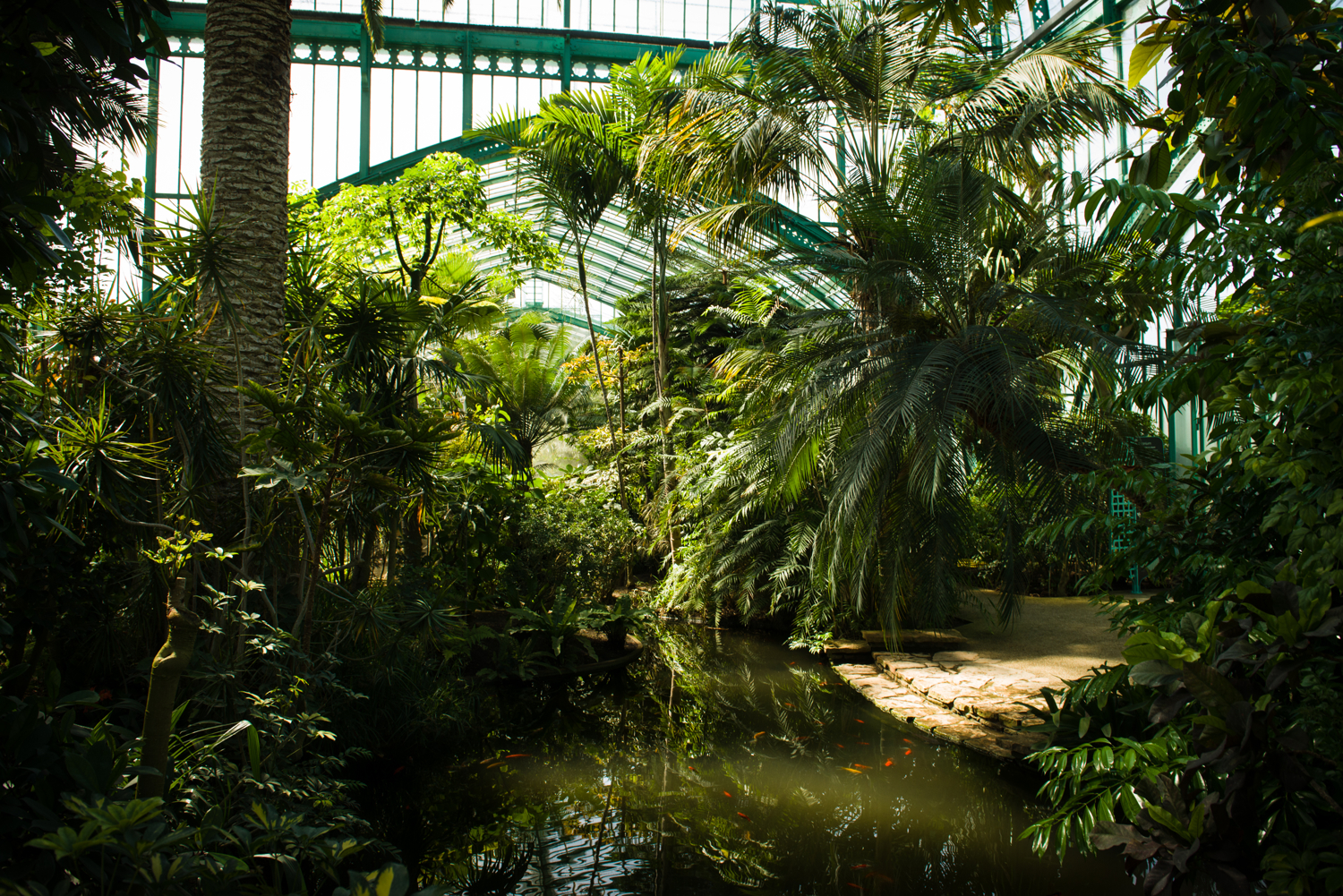 France, Paris. Inside a greenhouse in the Jardins des Serres d'Auteuil. The plants grown in the greenhouses in the Jardins des Serres d'Auteuil are used for the decoration of municipal buildings in Paris.